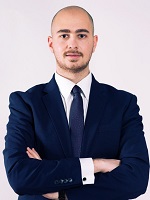 Omar Najjar is a PHRi certified Expert Network and Market Research professional, currently working as an Associate at Dialectica-Greece where he assists the MENA team on impactful projects spanning the globe, in collaboration with Global Advisory Firms. He specializes in finding the best industry experts across all sectors, functions, and geographies helping his clients make well-informed decisions while reducing risks and saving both money and time. Simultaneously, he is overseeing the operation of his business venture, which he launched back in Jordan with his partner. It focuses on importing household goods from China for distribution across several shops and markets in the capital city Amman.
Prior to that, Omar has occupied the position of HR Generalist at Consolidated Contractors Company in Qatar for 6 years (2014-2020), working for three mega projects with a total of 20,000 workforce and over $2 billion project value combined. In this role, he assisted Project Managers and Regional Commercial Managers in taking sound decisions based on extensive research and studies to promote manpower welfare, while enriching productivity through the implementation of a number of initiatives adopted across different locations in the Middle East and Africa.
Omar has obtained his Bachelor of Business Administration (BBA) from the American University of Beirut and complemented his educational background with an International MBA (i-MBA) from Athens University of Economics and Business.
Aside from work, Omar appreciates spending his free time with family and friends, enjoying food and drinks in new places while exploiting his residence in different countries including Jordan, Lebanon, UAE, Qatar and Greece. He also enjoys reading business-related books, biking, and playing soccer. Omar is fluent in both Arabic and English and has started learning Greek early Q1 2022.