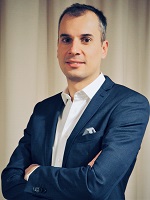 Spyridon (Spiros) Siatras is an EU official, working for the European Commission in Brussels, Belgium. Spiros, an engineer by training, has extensive experience working both in the public and private sector as well as in truly multicultural environments.
In his current role as Head of Sector in the Informatics department of the Commission, he is responsible for a number of mission-critical corporate IT services. Working for the Commission since 2012, he has held different IT Infrastructure and Security roles in Luxembourg and Brussels. Before joining the EU institutions, Spiros was working for Microsoft in Athens, Greece as IT consultant acquiring substantial expertise in large-scale IT projects. Overall, he has more than 10 years of experience in the Information and Communications Technology (ICT) domain with a demonstrated history of managing and delivering resilient, effective and innovative ICT services.
Before acquiring the MBA International degree from Athens University of Economics and Business with honours, Spiros studied Electrical and Computer Engineering at Aristotle University of Thessaloniki. He also holds an MSc in Communications and Signal Processing from Imperial College London.
Outside work, Spiros enjoys rediscovering the kid in him, being the proud father of a young girl, who monopolises his free time. Still, he hopes to someday rediscover the joys of traveling, reading and exercising sports.