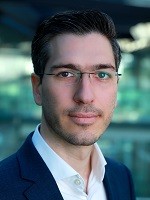 Stelios is a business leader with a wide breadth of experience through a 20-year career in various organisations in the eCommerce, Retail, FMCG and Consulting sectors. He is currently a Global Director in Expedia Group helping the organisation achieve its strategic objectives in the Vacation Rentals segment.
Has served as a Consultant with EY, IBM and independently building strategies and helping organisations transform, serve their customers better and achieve growth in an ever-changing digital world. Has also held a number of positions with eBay leading teams in Marketing, Operations, Product Development and Merchandising having responsibility for a $4.2bn GMV.
Stelios has an MBA from Athens University of Economics and Business, a BSc in Business Administration, a project management qualification (APMP), a Six Sigma GB certification and he is a CIMA chartered accountant.
Stelios is an Ambassador of the iMBA in London, United Kingdom, he is passionate about Business Management and Leadership and he enjoys coaching and mentoring professionals. He spends a lot of his free time with friends and family, traveling the world and snowboarding.