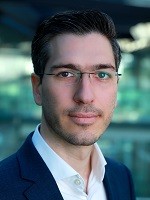 Stelios is a business executive in the online commerce space with experience coming from pure players but also from companies in the B2B, Retail and FMCG industries. He is currently a Global Director in Expedia Group helping the organisation to shape up its strategy and drive execution.
Has served as a Consultant with EY, IBM and independently building strategies and helping organisations transform, serve their customers better and achieve growth in an ever-changing digital world. Has also held several positions with eBay leading teams in Marketing, Operations, Product Development and Merchandising having responsibility for a $4.2bn GMV.
Stelios has an MBA from Athens University of Economics and Business, a BSc in Business Administration, a project management qualification (APMP), a Six Sigma GB certification and he is a CIMA chartered accountant.
Stelios is an Ambassador of the iMBA in London, United Kingdom; he is passionate about Business Management and Leadership, and he enjoys coaching and mentoring professionals. He spends a lot of his free time with friends and family, traveling the world and snowboarding.