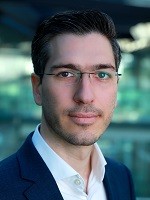 Stylianos is a Senior Manager in EY Customer Strategy Practice in London, United Kingdom, specialising in Digital & Commercial Strategy, Business Design, Customer Experience, Multi-channel Strategy, Go-to-Market Strategy, Marketing Effectiveness, Operations & Continuous Improvement, Partnerships & Sales Excellence.
Joined EY Advisory in 2019 from eBay, where he was leading the Commercial function of a $4.2bn sales unit, and after 18 years in the industry helping organisations transform, provide better service to their existing customer base, address new customer segments and grow. Has led customer centric teams across Sales & Commercial, Marketing, PMO, Digital and Software Development and has worked for small and large organisations across Europe such as eBay, Dixons Carphone, Pelican Rouge Group, Lloyds Pharmacy, Samsung Electronics & Procter & Gamble.
Stylianos has an MBA from Athens University of Economics and Business, a BSc in Business Administration, a project management qualification (APMP), a Six Sigma GB certification and he is a CIMA chartered accountant.
Stylianos is an Ambassador of the iMBA in London, United Kingdom, he is passionate about Business Management and Leadership and he enjoys coaching and mentoring professionals. He spends a lot of his free time with friends and family, travelling the world and snowboarding.