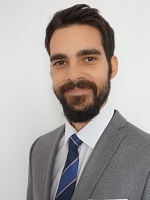 Vasilis Salagiannis is a Marketing and Communication Specialist at Groupe FLO (Asia), Beijing, China where he is responsible for managing the company's digital marketing activities on Chinese online dining and food delivery services platforms as well as planning and creating marketing content for social media channels and websites. Vasilis is also responsible for organizing and managing restaurant events and performances. In addition, he is the Project Manager for the introduction of a new restaurant concept in Beijing.
Vasilis's previous experience in China includes serving as a Marketing and IT Manager for HYDRO Systems. His major contributions were building up the offline and online marketing of the company in Mainland China and Hong Kong as well as conducting competition analysis and market research regarding the developing of the company's first made in China products. Prior to this, Vasilis worked as a Researcher in a research institute of retail consumer goods and as an Information and Media Section Leader in the Communication Department of a technical consulting engineering company in Greece.
Vasilis holds a BS in Political Sciences from the Aristotle University of Thessaloniki and an International MBA from the Athens University of Economics and Business in Greece. His native language is Greek. He also speaks fluent English and conversational Chinese and Italian.
Vasilis's favorite hobby is traveling. He has traveled extensively within China and has visited almost all countries of East and Southeast Asia.