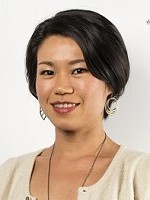 Wan-ting is the founder of Planctae International Trading Company, Taiwan. The company is distributing products of dietary supplements and skin care products, whereas her responsibility is to develop a strong team to market the products and provide services to customers. The company has opened markets in various countries such as Taiwan, greater China area, USA, and Australia.
Wan-ting has been in this industry for the past 8 years. Right after graduating from AUEB, she started this company importing organic food from Greece and advocating health awareness. Now the company focuses on functional foods which deliver specific health benefits and also provides a platform to people who are willing to change their lifestyle.
Before entering AUEB MBA program, Wan-ting majored in Civil Engineering and obtained her first graduate degree in Science Dynamics in the Netherlands.
Wan-ting is also a professional olive oil taster trained in Italy. Tasting olive oil and learning about it is not only a big passion but also an advantage for her current career. Sport plays an important role in her life; she is an athletic person who enjoys activities such as archery and snowboarding.