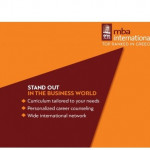 The MBA International of the Athens University of Economics extends its application deadline until Friday, 19/6/2020. The MBA International is a world-class program tailored to provide high quality and timely business education in today's global, dynamically changing, and technology-driven business environment. The Program is accredited by the Association of MBAs (AMBA) since 2005 and is offered exclusively in English.
The novel coronavirus has recently paused and transformed daily activities for citizens across the globe. Following the responsible reaction of the Greek authorities and each fellow citizen, life is expected to return to a more normal pace within the next few weeks.
During this turbulent time, however, the MBA International has continued its operation at all levels, to ensure the minimal possible disruption of the academic program and other activities. Courses have been delivered through online teaching and interaction, administrative issues were handled via distance working and an alternate work schedule, and admission interviews, for the upcoming academic year, are conducted online.
The health and safety of our prospective candidates, current students, faculty and staff is of utmost importance, so all applications for the second round (which will last until the 5th of June, 2020) are being reviewed electronically, and interviews are being conducted online continuously.
The unprecedented situation created by the COVID-19 pandemic will have impacts, which today are very difficult to foresee. They will range from how we behave in daily social interactions, to disruption of business models, and shifts in economic and maybe even political systems. The magnitude of these transformations in a longer perspective is unpredictable; how significant or even game-changing will they be, with some time in hindsight?
This context, however, should not prevent anyone from making his or her professional and personal aspirations come true. More than ever there will be need for high-caliber leaders and managers who embrace innovation, adopt a balanced and integrated approach to decision-making and act as reflective practitioners and responsible citizens of the world. In other words, for the profile of business graduates that the MBA International develops and cultivates.
We warmly welcome and look very much forward to receiving your applications, the latest until 19th of June 2020!
Places are subject both to an upper and lower limit of participants, based on accreditation criteria and the regulations of postgraduate programs.
Criteria and selection procedure
Applications are submitted electronically through:  https://e-graduate.applications.aueb.gr/?lang=en_US
1. Register and login to the link above.
2. Find in the list of available Postgraduate Programs, the MBA International.
3. Select the Full Time or Part Time Program.
4. Select and complete the form in English language. Make sure to double-check that the English language form is used.
5. Complete all required fields in the application form.
Notice: you should complete the online application and click "Submit". You will not have to upload any documents. If any personal data is not applicable please type "-".
After submitting the online form and before the application deadline, applicants have to send by post or submit in person to the
Secretariat's office the signed printed form of the electronic application along with the required supporting documents.
Contact Details and working hours:
MBA International, Room 805, 8th floor, 47A Evelpidon and 33 Lefkados Street, 11362, Athens, Greece.
Tel. +30 210-8203659-662, 680 Fax: +30 210 8828078,
Email: imba@aueb.gr , Website: https://imba.aueb.gr/
The secretariat of the Program operates Monday to Friday: 09:00-17:00.
Documents that must be submitted:
1. Completed Application form (printed and signed).
2. Copies of all University Degrees/Diplomas. For non Greek degrees a recognition by the Hellenic National Academic Recognition Information Centre –DOATAP- is required.
3. Official Transcripts (certified copy of English translation in case the transcripts are not in English or Greek).
4. Certificate of English language: Cambridge or Michigan Proficiency/TOEFL/IELTS.
5. GMAT (optional, can merit a GMAT scholarship for the Full Time Program).
6. CV in English.
7. Proof of full employment record. Admission requires minimum three years working experience.
8. Two recommendation letters.
9. Military Discharge Papers (if applicable).
Submission of an application for this call does not imply any acceptance.