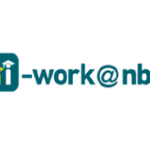 The National Bank of Greece (NBG) announced the Internship i-work@nbg 2015 Program, that offers the opportunity to students or recent graduates to do internship (for a period of 6 to12 months) at the e-banking sector of NBG.
Internships are open to students and recent graduates of four master's programs of AUEB, including i-MBA.
Futher information on the eligibility criteria (in Greek) can be found here.
Those interested to apply are requested to fill in the Application Form and send it, along with their cv, to the following e-mail address: i-work@nbg.gr.
Application deadline: Monday, February 16, 2015 (11.00 am).
For further information, you may also contact Ms Marianna Avramidou (+30 210-3342425), Ms Aikaterini Siarkou (+30 210-3341047) and Ms Fani Mpampiolaki (+30 210-3342094).