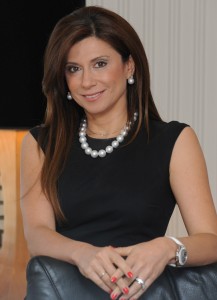 Ms Nelly Katsou, Vice President of the BoD & Managing Director of Pharmathen,  and i-MBA BAC member, replies to the questions posed by our students, providing useful information on the pharmaceutical sector in Greece, commenting on global trends and challenges and communicating the ingredients of Pharmathen's success in the Greek and global pharma landscape.
Sector
What is the importance of the pharmaceutical sector in the Greek economy and in its development?
The Greek pharmaceutical industry contributes significantly to the development of the National Economy, by being one of the most dynamic fields of Greek industry. The field holds a leading position in the processing industry and during the 2000-2010 period it showed the highest annual average growth, in terms of gross added value, in comparison to other domestic processing sectors. This growth rate was the largest among all European Union member-states during the corresponding period.
The field's contribution in the country's GDP amounts to 2.8 billion Euros on an annual basis. It is estimated that for every 1,000 Euros spent on drugs produced in Greece, the country's GDP benefits at a rate of 3,420 Euros. The financial activity of the Greek pharmaceutical industry also reinforces state revenues. A recent study conducted by the Foundation for Economic Research & Industrial Research (IOBE) raises the total tax-revenues from the domestic pharmaceutical production to 147 million Euros.
At the same time, the direct employment rate of the Greek pharmaceutical industry exceeds 11,000 positions, a number that corresponds to more than 60% of the field's total employment. Another 13,400 employment positions in related fields linked to the pharmaceutical industry, are also indirectly supported, while 29,000 additional employment positions occur as a result of the expenditure provided through salaries. In light of these data, the total impact on employment from the field's activity amounts to more than 53,000 jobs.
Meanwhile, the use of Greek meds by Greek patients saves large funds for the National Healthcare System, which benefits from the difference in prices between Greek and imported prototype meds.
What are the main challenges that the pharma sector has faced due to the financial crisis in Greece?
In 2009, the annual expenditure for meds amounted to 5.6 billion Euros, while the goal for 2017 is 2 billion Euros. We do realize that this reduction resulted in a dramatic shrinkage of turnover for all pharmaceuticals and also created a domino effect. As far as Greek pharmaceuticals are concerned, a sudden turn (therefore an opportunity) occurred towards exports. This effort was fruitful, as confirmed by the data provided by the National Statistics Authority. Drugs are today the second most exported product (oil products excluded). The extrovert trend is also reinforced by the investments, worth 355 million Euros, that took place on behalf of Greek pharmaceutical companies over the past few years.  Six new production units were created with an exports orientation (thus raising Greece's drug production capacity to 21 units). Amid a deindustrialization era, it is obvious that the Greek pharmaceutical field remains one of the country's few production hubs.
According to your opinion, what are the main public policies and regulations that have to change, in order to ensure sustainable development of Greek pharma companies?
The Greek pharmaceutical industry may function as a growth lever for the Greek economy and become a regional player in the pharmaceutical field in the wider region of Southern Europe and the South-Eastern Mediterranean region. In order for this to happen, the necessary reforms in the drug market must be decisively implemented. If our country manages to reach the target for a generics' market share of 60% on sales volumes, the effect on the country's GDP will range from 3.4 billion Euros to 3.8 billion Euros and it will also create 2,000-2,500 new employment positions. Parallel to that, productivity, human capital and expertise levels will increase and pharmaceutical expenditure will be contained thanks to the selection of more affordable therapeutic options. This goal should not be considered to be 'Memorandum-dictated' rather a 'national' goal, since it may turn Greece to a leading country in the wider area in the development and production of generic drugs. It will also lay the foundations for the transformation of the country to a center of pharmaceutical technology.
Are there any specific skills and attributes required by professionals who wish to work in management positions in the pharmaceutical sector? Have you identified any particular skill gaps?
The pharmaceutical industry is a high-tech field, linked to parameters such as Public Health and Health Finances. Let us not forget that drugs have a twofold character being both a product and a general good. In this sense, administrative duties in a pharmaceutical business have two prerequisites: specialized knowledge about the products and special skills for their safe distribution, depending on each position. For the research field, high ranking positions demand highly specialized knowledge regarding innovation, HTA, and IP patenting, which are extremely hard to find in the Greek labor market.

Company
In 2002 Pharmathen launched its first product to the EU. Since then, the company has expanded to more than 80 countries. What were the main components of this success?
Pharmathen's exporting activity began 20 years ago. In 1997 the first steps were taken, while systematic exports began after the year 2000. In 2005, the turnover of exports amounted to a mere 21 million Euros, while this year the corresponding amount is expected to reach 155 million Euros, which is 72% of our total turnover.
For Pharmathen exporting activities are part of its DNA, since its strategy is based on the triptych: research-extroversion-investments. Extroversion and the growth dynamics of Pharmathen exceed Greece's narrow framework and has created more than 500 new jobs during the financial crisis period (2010-2016).
You place great emphasis in R&D. How do you think this has contributed so far to the company's success and what further investments you plan to make in this specific sector?
Investments in research and development are vital to Pharmathen, as well as a prerequisite for the conquering of international markets. Pharmathen is one of the fastest-growing pharmaceutical companies in Europe, with a notable portfolio of products.
We invest more than 30 million Euros in Research and Development on an annual basis, in order to produce 10 to 12 new generic molecules and 3 to 4 innovative products. Also, we develop innovative techniques, as well as advanced technology and establish new technological platforms, thanks to which we offer patients optimized pharmaceutical products.
More than 100 products are being exported and their turnover covers 1% of all national exports. Nowadays, our company holds 8,000 licenses on a global level and maintains strong collaborations with all pharmaceutical giants. Through strategic collaborations, Pharmathen has a strong presence in more than 85 countries, which include developing markets in Europe, Australia, the USA and New Zealand. Pharmathen has offices in six countries and collaborates with 180 pharmaceutical companies globally.
The R&D department actively participates in a series of research programs, collaborating with important Universities and research centers located within the European Union. The goal is to explore advanced and innovative pharmaceutical technology and implement it on an industrial scale.
Pharmathen is the first Greek business granted a 25 million Euro loan by the European Investment Bank for investments regarding the development—through research—of new pharmaceutical products and related technology.
In 2015 the majority stake of Pharmathen was acquired by BC partners. How did you manage to achieve such a partnership during the crisis and what opportunities were raised from this deal for the company's position in the global pharmaceutical landscape? 
Pharmathen's steady upwards course and its close relation to innovation and extroversion grants the company memorable and extremely dynamic characteristics.
This vision and character were not affected during the financial crisis; instead they were further reinforced with more investments. This is why leading investment company BC Partners deemed our company investment-attractive. The purchase of Pharmathen's majority stock creates added value. It reinforces BC Partners' portfolio, providing new potential to the international Pharmathen Group, whose heart is still beating in Greece, stronger than ever.
Which are the most-important strategic priorities for Pharmathen over the next three years?
Pharmathen's goal remains the triptych 'research-extroversion-investments'. During the 2015-2020 period, investments in infrastructure, research and development of new pharmaceutical products will exceed 120 million Euros. The production unit in Sapes (Evros, Greece) was designed to fulfill the strictest EU and US drug production criteria (GMP). Also, further funds that amount to 15 million Euros will be invested until the end of 2018. It is worth mentioning that this year, the unit will become the first unit in Greece to be authorized by the FDA.
Pharmathen has already made its mark on the global map of innovation, achieving two major landmarks: the development of Long Acting Injectable technology (LAI – Injections of extended disengagement) as well as PF ophthalmology products PF (Preservative Free).
Contrary to the use of injectable products, which was commonly accepted until now (used for the immediate administration of active substances in the body), we have established a new distribution technique. With the injectable administration of LAI products, the active substances are provided to patients at once and are slowly administered to the body from one to six months after the injection.
Pharmathen has already reserved the rights for LAI technology, by filing applications for two global patent diplomas. The extension of the therapy's applications is also expected to be announced soon. It should be noted that, this innovation has led Pharmathen to sign an agreement with a large US-based pharmaceutical company, for the global promotion of two LAI products.
The ophthalmology-related products without preservatives is a new, modern and user-friendly trend, which holds many advantages compared to conventional products that contain preservatives. The most important one is that, the preservatives contained in ophthalmic solutions may cause intolerance symptoms and increase the eventuality of an allergic reaction. These products will be produced in the unit based in Sapes as of 2018.
Our future growth plans include the acquisition of companies abroad that will function collaboratively within our technological and research framework of activities.