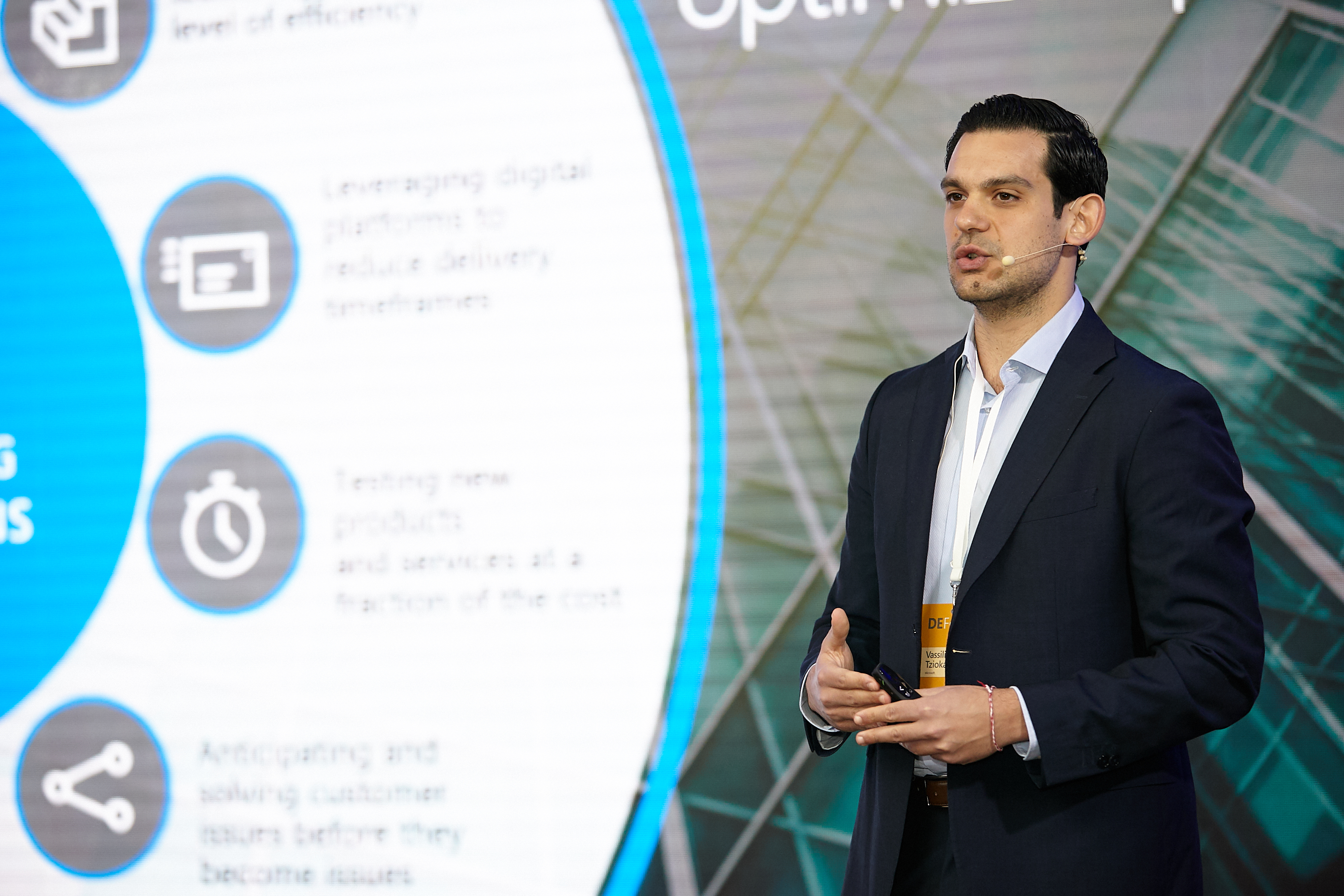 "Hysteresis is the dependence of the state of a system on its history". "If you put a shock to a system in one direction, and then put a shock in the other direction, the state diagram doesn't look the same going back to the starting state."
We are entering the 17th month of the pandemic crisis and the word is approaching the unimaginable death toll of 4 million people losing their lives and millions more affected and in grief. Due to an unprecedented acceleration of scientific research and human ingenuity, we start seeing the light at the end of the Covid tunnel, but it is now evident that we will be experiencing the pandemic spillover effects for years to come. The world today is very different from what it was in early 2020 but at the same time it isn't. Organizations pressed "fast forward" in their attempt to adapt to the new reality, but people pushed "pause" staying home for months in hibernation waiting for normal life to be back. Even the organizations that accelerated their pace of transformation seem today to be lost in a maze of new trends, uncertainty, and a desire to "return to normal". We forget that fast forward buttons may take us further down the road, but they don't prepare us for what we will watch or listen when we stop pressing them. In other words, the pace changes but we don't. So, it seems we are still jumping between two worlds. A world of fast innovation and transformation and a parallel world where we can't wait to "get back to normal" sitting in our sofas watching Netflix.
Pressing Fast Forward
Satya Nadella, Microsoft CEO, recently said "We've seen two years' worth of digital transformation in two months" referring to how COVID accelerated the business transformation and digital maturity of many organizations across the world. Almost all analyst reports show that organizations have dramatically increased their digital transformation investments and are more intentional on building digital-first strategies. The most dominant patterns of enterprise technology investments the past months are:
Digital & Business Transformation: Digital transformation is a broad term and has various definitions, so it is important to place the emerging transformation patterns in McKinsey's "3 Horizon Framework". In Horizon 1, many traditional businesses focused on optimizing their existing processes using basic digital technologies, like for an example a small retailer offering online shopping and pick-up. In Horizon 2, we find organizations that had already invested and adopted some advanced technologies that enabled them to take their products or services to the next level offering more engaging customer and employee experiences. In Horizon 3, a much smaller number of businesses that was already empowered by years of digital investments and leadership embarked on a journey to transform their core business model, innovate and enter new markets. The most important insight is that the pandemic pushed all businesses, regardless of their size, to modernize their operations and created an urgency for many others to innovate and experiment with more sophisticated technologies. Some companies were much more prepared than others and they showed better agility and resilience but generally almost all industries accelerated their pace of transformation.
Remote Work: work from home (WFH) was a very important business discussion much before Covid and it was usually approached both from a technological and a cultural perspective. The pandemic pushed businesses to think and act fast. They either had to quickly invest in digital collaboration platforms or to be much more intentional about using already purchased video conferencing licenses. Most businesses managed to solve the technology side of the WFH equation but did a poor job on building well-informed structures and training their leaders to enable a truly remote collaboration culture. It is now clear that the future of work is a problem that doesn't have a universally correct answer. WFH is not a one-size-fits-all solution. The extremely wide range of office policies out there proves how confused the business leaders are but with every challenge comes an opportunity. I believe that the opportunity is to finally acknowledge the symbiotic relationship of technology, politics and humans and approach challenges like this with a much more open, rather than fixed, mindset. The future of work will be defined by the right combination of digital technologies, human-centric organizational structures, transportation and housing policies and the economic geographies of talent.
Employees Safety & Well-Being: another topic that Covid brought to the surface is employees' safety & well-being. When it comes to safety, organizations with heavy human-centric processes (factories, warehouses, restaurants) had to reinvent how to operate while keeping their employees healthy. At the same time, Covid brought to surface mental health and well-being issues that had been overlooked for many years. Advanced technologies like AI-empowered personalized advice on working styles and meditation apps proved that they can make a difference if properly used.
Pressing Pause
The past weeks, while the business world was moving fast, the "real world" started getting back to normal. Vaccines were saving lives, countries opened their borders, people started going out and companies reluctantly opened their offices again.
We are now experiencing a limbo where businesses don't know which way to go. The "old way" is obsolete since many Covid habits and social behaviors are here to stay. The "new way" seemed like an interim solution that probably happened too fast and we now want to slow down and take a breath. For example, are we sure that we never want to return to the office? Are we confident that asynchronous work will "work"? Will the online consumer behaviors remain the same? And at the same time, the threat of new mutations and subsequent waves of the virus are an unfortunate reality.
The good news is that nobody knows what the post-pandemic world will look like. The bad news is that since nobody knows, business leaders will have to press pause, think and find the answers. Part of the answer will definitely come from technology. The businesses that have invested in digital transformation, have solid strategies and trained their employees will be in an advantageous position. However, as already commented, businesses can't expect to be future-ready if they don't approach the post-Covid future as what it truly is. A multidisciplinary topic.
A New Way to Look at Business: Anthropology
The first thing that business leaders should do is to fully understand humans and human culture. This might sound like a very strange recommendation, but it isn't. Humans are the core of every business and the way we behave, form teams, are motivated and communicate can make or break a company. Everyone knows Peter Drucker's quote "Culture eats strategy for breakfast", but very few people really know what culture is. It is time we use social sciences and anthropology to help us take more informed decisions, shape strategies, and build products. Hiring business anthropologists is now an established practice in Big Tech and other industries should follow. Social sciences make the familiar seem unfamiliar and vice versa giving us badly needed lateral vision at a time when many execs are plagues by tunnel vision. For example, the Remote Work discussion could seriously benefit from some anthropology insights. Can we be creative in virtual chats? How do we replace office serendipity and build trust in a virtual office? We need to put humans at the center of business thinking.
Corporation 2.0
Software had already become central to the way many industries operated pre-Covid but the rapid pace of change during the past months has now transformed every business into a software business (see also the article by Professor Diomidis Spinellis in issue 5 of i-MBA Scope). This is a paradigm shift that requires innovation and experimentation if businesses want to make the most out of their technology investments. And the innovation needs to start from how businesses are structured and managed. Today, most corporations are structured around the concepts of centralization, alignment, managers measuring output and performance reviews. However, software, by definition, follows a different logic. When software becomes the "actual business" then corporations need to adjust and empower individuals to become innovators, train their managers to stop pursuing useless KPIs, build markets rather than fit to existing ones and challenge the status quo. As Steven Sinofsky writes, Corporation, the way we know it today, was a result of post-WWII thinking. We now need to invent Corporation 2.0!
Technology Respects Innovation, Not Tradition
There is no doubt that the pandemic changed us a lot, as professionals and individuals, and will keep changing many aspects of our life. But when it comes to businesses, there is also no doubt that there are forces (complacency, incumbents, politics) that want to keep these changes in a peripheral level and bring us fast "back to normal". This is literally the recipe for disaster as Clayton Christesen's "innovator's dilemma" shows. The future requires bold steps and experiments, but it would be wrong to approach them only through a technological lens. A combination of social sciences insights, advanced technologies and human-centric innovation will be the perfect map to navigate the post-Covid uncharted territory.
References
Vassilis Tziokas is working for Microsoft as the Global GTM Lead for Analytics & AI Industry solutions. He is based in Seattle and you can read his blog here. The views expressed in this article are his own.